An Insider's Guide To Carvoeiro By Mel Ve | www.melve.life
I am often approached on the beach, by visitors to Carvoeiro who are fascinated with the fact that I take my cats to the beach for walks and play time, and I have lost track of how many times I have been asked for my recommendations of where to eat. Being a former Master Chef semi finalist and a Conscious Consumer, I am very particular about where I like to spend my money, but there are indeed a few special places that I always recommend.
ORGANICS BY TANIA
Open from 10am, this is possibly my favourite place for brunch and lunch in Carvoeiro, with a simple but delicious menu. This vibrant little cafe serves quality food, artfully presented, and made with much love by the friendly Mother and daughter team that run this fabulous establishment. My personal recommendations are the Banoffee Oat Pancakes, the Smoothie Bowls, the beautifully presented brunch options, and the fresh fruit juices and smoothies. In my humble opinion, they also serve the best coffee in town using Lavazza, which is the number one coffee in Italy.
EARTH CAFE
Situated at the top of "restaurant hill", this gorgeous cafe has art studded walls and a boutique shop filled with local artisan produce. For the health conscious, there is an epic selection of salads and plant based options, and some rather unique menu items. This is a perfect place for breakfast and lunch, and you can relax whilst taking in the breathtaking sea views.
CHEF'S KITCHEN
Having only opened in 2019, this fantastic restaurant has acquired quite a reputation amongst food connoisseurs, having a unique international standard menu, the quality of the food and the artful presentation, make this one of those restaurants you have to visit when you are in Carvoeiro.
GURKHA KITCHEN
Whether you eat al fresco or take away, this Indian and Nepalese restaurant makes the best curries in town. My personal favourites are the Prawn curry dishes, which must be accompanied by their stunning Naan bread, which is made the traditional way in tandoor oven. The service here is some of the best I have come across.
GUM TREE
Newly refurbished for the 2019 summer season, this tucked away restaurant is situated around a swimming pool for dips whilst dining on hot summer days. It has an extensive menu serving beautifully presented food, but by far my favourite is their Caesar Salad.
HAPPY'S
One of the more economical dining options in Carvoeiro, Happy's is a small but sweet little restaurant half way up "restaurant hill", and is known for serving the best fish and chips in town. The menu is simple, but what they do is done well, and is run and managed by the owner who always lives up to his "happy" name.
ARCO DAS BIFANAS
Newly opened this year by a brave young couple, this small little eatery serves the best Bifanas I have tasted, and I have had my fair share. I honestly did not know how morish Bifanas could be until I ate there. Bifanas are a traditional Portuguese dish made with pork fillet medallions, cooked in wine and garlic, and served on fresh Portuguese bread. At a mere 2,50 EUR each, this is a most welcome addition to the Carvoeiro food scene, which has lacked economical quick snack options.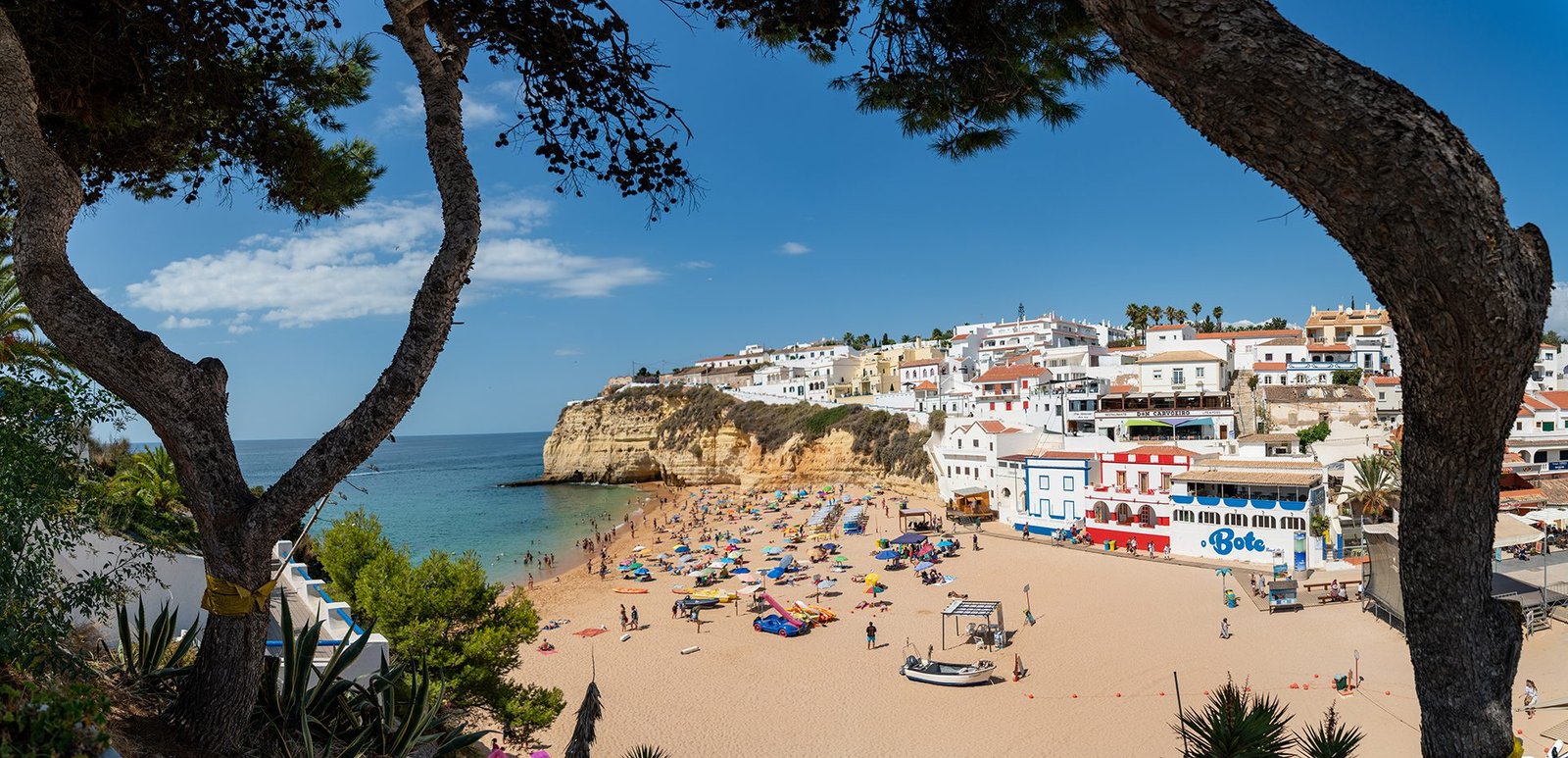 ---
WHAT TO LOOK FORWARD TO IN SUMMER 2021
After extensive renovation, Levels will be opening this year on the spot where Piu used to be. The main square on the Carvoeiro beach front has several restaurants flanking it, but all rather tired and overpriced for their mediocre offerings. It is good to see a fresh, contemporary option opening in this prime location.
CARVOEIRO BEACH
The beach in Carvoeiro is the most photographed beach in the Algarve, with swooping golden cliffs flanking each side, topped with buildings that have largely retained their authentic Algarvian charm. What makes this beach particularly appealing, is the easy access for the elderly, disabled and families with youngsters, due to the ability to walk straight onto the sand from the main square without having to climb up and down several flights of stairs.
Whether you are on holiday, visiting, or live in the area, Carvoeiro hosts a plethora of places to eat, drink and engage in recreational activity. Knowing the little hidden gems can absolutely make the difference between being ripped off by the usual sub par tourist traps, or a truly spectacular, memorable time in Carvoeiro.