Having your own private pool is really quite unusual for people in Northern Europe.  The weather is simply not inviting.
However, one of the joys of living in the Algarve is the possibility, indeed the privilege, of having one's own pool and being able to use it most days of the year.  It is part of the indoor/outdoor lifestyle and is not only recreational but also really healthy. 
 In the early days of pool designing and building in the Algarve, they were a bit of an afterthought. Small rectangles or perhaps virtually unusable, kidney shapes, they tended to have a "shallow" end, hopeless for swimming, and a "deep" end, hopeless for young children.
So as thinking became more sophisticated and the true value of swimming pools became more apparent, the approach to designing them changed. They became everything from part of the art of the architecture through a bigger and bigger phase,  built to satisfy all the users and then moving in a range of design solutions.   This shows a pool and a series of water features, blending together to form a spectacular transition from the house to the garden.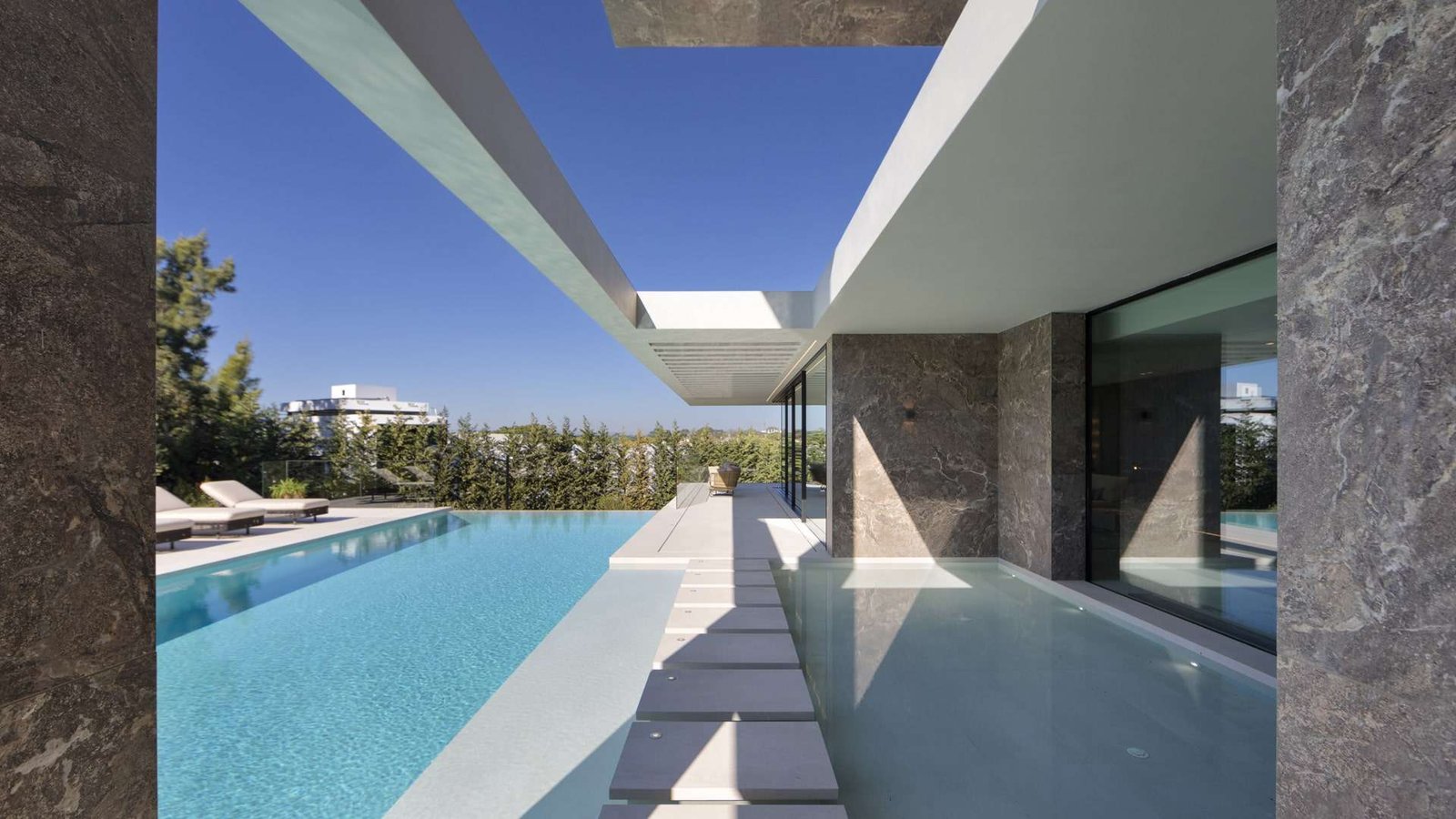 Indoor pools have always been regarded as an element of luxury, mainly because in the cold North, the heating costs are extremely high.  However, that is not the case in the Algarve, so there is a move towards having an indoor pool as part of the "spa" experience.  What a treat! 
 A real Wow factor in some houses is to design one wall of the pool in glass so that the swimmers can be viewed from inside the house    
Although this image shows the lovely Joanna, what is really comical is to see naughty children pressing their noses against the glass when diving in the pool.
 So. Have we reached the ultimate luxury in having examples of two swimming pool houses?  Of course not!  I have created a number of houses where, at the client's request, there are four separate pools. However, the most so far is five.  In this case, my client, quite calmly and reasonably explained this requirement:
One normal pool for everyone. My wife does laps, so one is designed for that. There is a spa in the basement, so one is part of that area. There is a huge room terrace for sunbathing, barbequing, etc., so one there. And, finally, I want to see my grandchildren when they are playing in the pool, so we need one in front of the living room.
Have we reached the end now? Of course not!
In this time of cutting-edge design and engineering, there are different and beautiful other approaches and solutions.  The latest design my team is working on involves a perfect pool for all occasions and uses.  It has a flat bottom at 1.5 metres, ideal for serious swimming.  At the touch of a button, the floor comes up to produce a uniformly shallow pool with a depth chosen by the client to be perfect for toddlers to safely paddle in, less energetic adults to lie on sunbeds in, and anything in between.  It can even come up completely, level with the surrounding terrace, to produce a dance floor.
 Is this the ultimate?  I am sure it is not and we will continue to see beautiful and more astonishing swimming pools in the years to come.