I recently had the privilege of catching up with Emilio Alves, the CEO of De Gregorio Portugal, and learned about the remarkable developments that unfolded during the spring of 2023. This season witnessed the arrival of De Gregorio Designers and Architects in the Algarve region, where they established a groundbreaking partnership for the inauguration of Portugal's very first Rimadesio mono-brand showroom. Nestled in the city of Loulé, this collaboration leverages De Gregorio's extensive 15-year history of working with Rimadesio products in Germany. This 150-square-metre showroom is a testament to excellence in Italian design, housing a thoughtfully curated selection of Rimadesio's finest creations.
Among the showroom's highlights are the versatile model wall panelling system, the elegant Zenit bookcase, the innovative Maxi and Velaria sliding systems, and the all-new Radius door. This partnership signifies an exhilarating milestone for De Gregorio, but it also represents a unique opportunity for the Algarve community to immerse themselves in the essence of Italian design.
Strategically positioned in the heart of an emerging hub for European and American entrepreneurs and startups within the Algarve town, this exhibition space is more than just a showroom, it's a symbol of potential and ambition. Emilio Alves and his team recognise the tremendous possibilities this region offers, inspiring them to embark on this exciting venture. Their team, composed of talented designers, architects, and brand experts, excels in crafting premium and exclusive interiors that exemplify the highest standards of quality and innovation.
Emilio himself has a unique background, hailing originally from Portugal but having lived and worked in both Germany and Portugal. This international experience has provided him with invaluable insights into service levels and business operations. Together with his co-founder Massimiliano De Gregorio, who originates from Campomarino, Italy, and has been a resident near Stuttgart, Germany, for over three decades, they embarked on this journey. Massimiliano's career began in 2001 when he, drawing from 11 years of experience as a furniture carpenter, launched his interior design business and design studio. What initially started as a humble workshop has since evolved into a prominent Italian interior design brand, celebrated not only in the region but beyond.
Emilio's deep affinity for Italy and his enduring friendship with Massimiliano De Gregorio ignited his passion for Italian interior design, ultimately drawing him into this remarkable endeavour. His first visit to the Algarve exposed him to the captivating beauty of the southern region of his homeland and the allure of Portugal's stunning Algarve. The locale naturally resonated with their target audience, and this shared desire to establish a presence in the Algarve spurred them forward.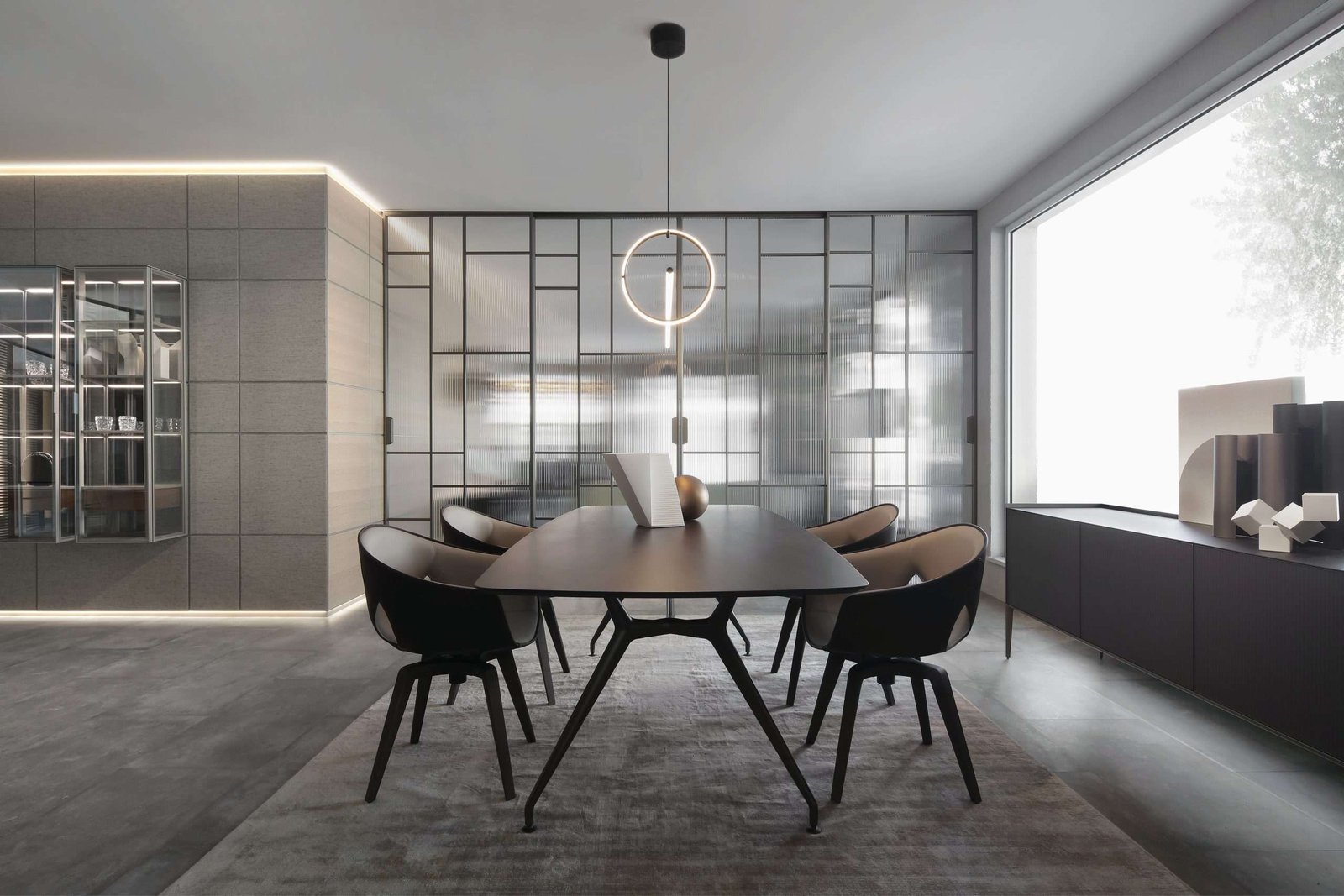 Together with their enthusiastic team, they offer high-quality interior design services in Portugal, guiding clients and partners through every phase of the process, from initial design concepts to final installation. Their commitment to excellence is evident in both their products and their expertise.
Rimadesio, known for its sleek and innovative designs in versatile interior solutions, sets the standard for quality. Much like Rimadesio, other esteemed companies share a similar commitment to excellence. For instance, Poltrona Frau, a prestigious Italian brand, is celebrated for crafting luxurious furniture and premium leather interiors that are often found in the world's most opulent cars.
In the realm of contemporary lighting, Flos and Davide Groppi are renowned for their unique approaches and designs. These brands, like Rimadesio, exemplify the fusion of form and function, offering exquisite products that elevate interior spaces to new heights of sophistication and elegance.
Rimadesio by De Gregorio has been a transformative presence in Portugal's interior design landscape, introducing unparalleled innovation and elegance to the market. It has challenged aesthetic conventions and elevated the level of sophistication in the country. The showroom's goal is clear: to showcase the epitome of Italian design excellence. Alongside Rimadesio, globally recognized brands like Poltrona Frau, the iconic lighting of Flos, and the elegance of Davide Groppi take centre stage. Moreover, De Gregorio offers exclusive kitchen and bathroom designs, exploring colours and materials creatively to craft unique spaces that harmonise style with functionality.
Their space serves as a hub for architects, interior designers, developers, and discerning clients. It embodies exclusivity through minimalist forms, top-quality materials, and sophisticated design. The impeccable service levels and precision-crafted materials used throughout the showroom are a testament to De Gregorio's unwavering commitment to delivering nothing less than perfection.
The collaboration between De Gregorio and Rimadesio in Portugal's Algarve region is not just a showroom—it's a celebration of Italian design excellence and a catalyst for the evolution of the furniture and design sector in Portugal. It showcases the seamless fusion of innovation, elegance, and superior craftsmanship that defines this partnership, making it a must-visit destination for those seeking the best in interior design.